One of the most consistent collectives in the burg Palm Pact, releases their follow up to 2020s "Armada", with "Emerald Era" a project packed with beats and rhymes dedicated to the locals.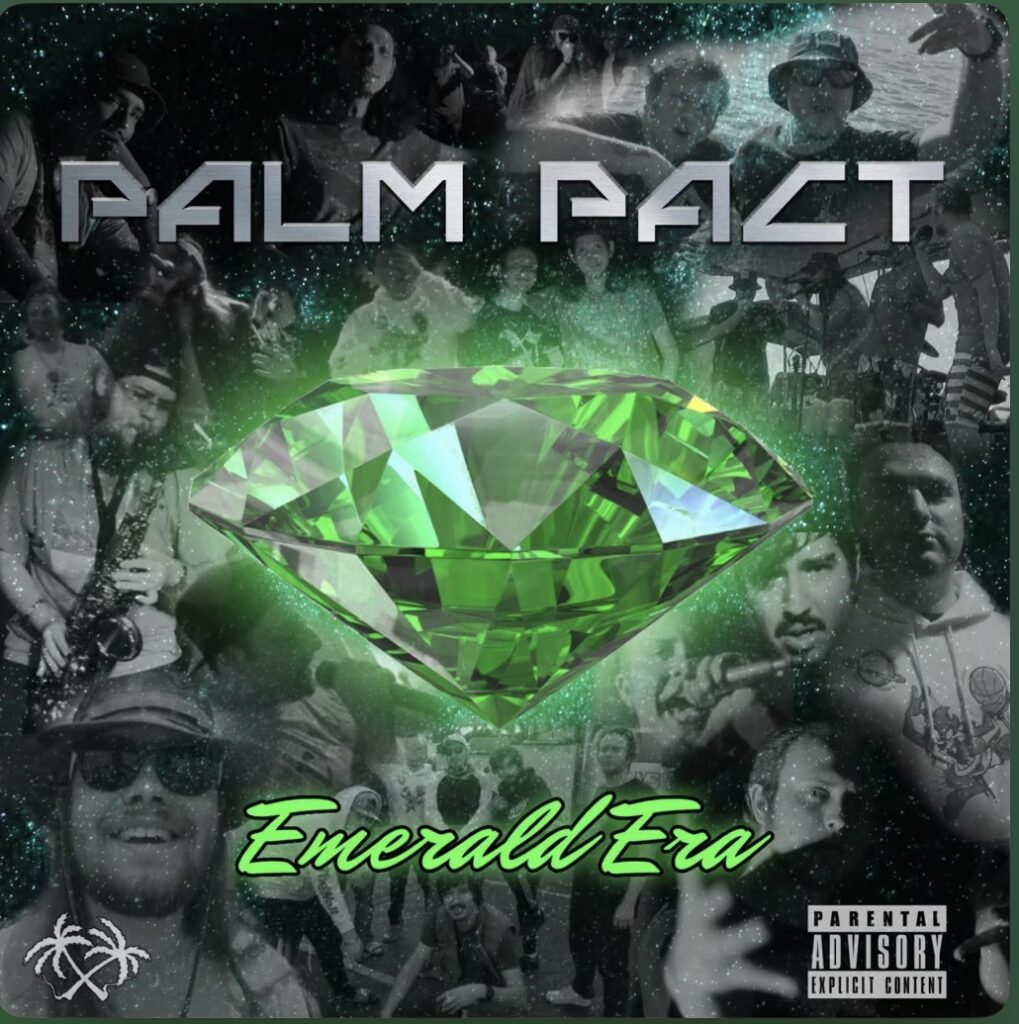 We officially enter the "Emerald Era" with "Soul Of Emerald". Ryan Rev is one of a kind on the hook adding, a soulful melody to the triumph beat. Low key a posse cut, Euphemistic brings a more lyrical take to the track, while Bomber comes through with the hazy punch lines. Kai Ken closes the track with a barrage of bars. Hook of the year contender.
"Sad In The Morning" is a bit somber, but I dig the way Bomber rides over the bouncy beat. Ryan Rev does his thing once again on the hook. That "blasting off like team rocket" line by Euphemistic is a stand out.
"Catch Me Rollin" is that late night smokers anthem. This hook from Ryan Rev is guaranteed to get stuck in your head. The storytelling elements from Kai Ken and Euphemistic, make the track fee a bit more personal.
"Eye Of The Storm" is on some cloud rap vibes. The slower flows fit the slowed drugged out feel of the song. I really mess with Euphemistic's sped up flow towards the mid point of the track.
"Nauseous" features Bomber on the beat. Ryan Rev is usually known for his vocals but he pulls up on the track with a sped up flow and some hard hitting bars. Bomber did his thing on the hook.
"Tell Me What You Want" features one of my favorite beats on the project. Once again Ryan Rev snaps with the vocals, bro is a hook master. Anyone can relate to this track. Things pick up a bit once the beat switches up and Euphemistic pulls up on the track.
"How Ya Feelin'" is a nice smooth track. Bomber comes through on the first verse, brining a different vibe than he normally does. That "Yabba Dabba Doo" line from Ryan Rev was a stand out for sure.
"8 Rings" is an ode to the GOAT. Hands down one of my favorite hooks on the project. This one is a certified banger. I dig that low key west coast vibe on the production. Just a barrage of bars and flows from the whole Pact.
"Going Against the Grain" has a melancholic tone to it but at the end of the day if you keep it 100, shit will be straight. I really enjoyed how personal Euphemistic got on his verse.
"Selling Pot In The Parking Lot" is an anthem. Straight banger from the homie Bomber on production. I could just hear a whole crowd chanting the hook. We definitely need some visuals for this one.
"Sold Again" features a hazy island beat. Kai Ken had a dope flow on this track. The song concept is a really nice idea, very relatable.
"Pan Out" has that bouncy vibe. This song is all about growth. If you never take a chance, who knows what will happen. This album has a couple tracks for the ladies on it and this was my favorite one.
"Top Tier Titan" features a glitchy banger from Bomber. Between the group some of my favorite tracks are when Kai Ken and Bomber collab.
"Who It Is" is so wavy mane. Easily one of my stand out beats from the production. Ryan Rev did his thing on the backing vocals, adding some heft to the song.
"Mountaintop" is a very uplifting song. We all have goals in this world, using each day to its fullest to reach the mountaintop. Whenever Euphemistic and Kai Ken are on a track together, you can expect sick flows and catchy lines here and there.
The project ends with the "Palm Pact Cypher IV". All the members of the Pact show what they got going bar for bar over a Jolly Green beat. It was dope how they made the cypher into an actual song, rather than just spitting. The double time flows from Ryan Rev and Euphemistic really stood out.
There is definitely a place in the Tampa Bay Hip Hop scene for Palm Pact. I enjoy there feel good local vibe, with tracks on smoking and good vibes. My biggest takeaway is Ryan Rev though, that boy did his thing with the vocals, taking a lot of these songs to another realm with his hooks and backing vocals. Whether it's solo efforts or another gang project, I'll for sure be checking back in to see what's next from the Pact.