It's been about a year since I dropped my original review for the Zhudaru1963 album "Sky Zhone", so I felt now was the right time to finally canonize the album in the place it truly deserves to be, as a 727 Hip Hop classic.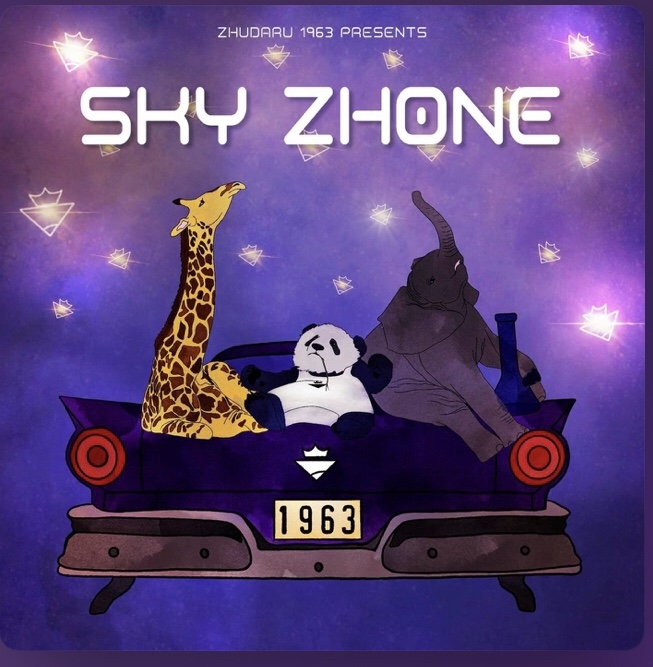 This album was one of the first St.Pete Hip Hop albums I reviewed on my site, introducing me to not just the man himself Zhudaru1963 but also to the entire Zhudaru collective. On this project Kayo Da Beast & Mackey Emmanuel a pretty much on every track, with bits of HeyeYella, Acoupstix, ABR, and Kalixo Rachet. Each artist in the collective brings their own unique sound, but it all still fits under the Zhu umbrella.
Off rips the first thing you should know is any project recorded in the Zhudio has the best sound quality in the area and Sky Zhone is no exception. The first song "Myself" showcases Kayo Da Beast. Kayo is definitely one his introspective shit on this one. Known for his more club friendly records it's nice to see Kayo get in his conscious bag.
Now this project has birthed several 727 anthems but the first one is "No Cap" featuring Kayo, Mackey, and the infamous Playrunna Av. Mackey Emmanuel is hands down my favorite melodic rapper but he can also hit you with them bars. Kayo is always able to get a track hype as well, with one of the craziest flows I've heard from him. Anytime we get blessed with a Playrunna AV verse we should always appreciate it. This hook is by far one of the things I've caught my self singing all year.
My favorite tracks from Zhudaru1963 himself are those dancehall island hits like "Slow" and "Mi Luv Yuh Body" both featuring Kayo. Anytime Zhu & Kayo get on a record it's guaranteed to take over the clubs. This one is heavy in the summer party mix.
"On Go" featuring Kayo, Mackey, and HeyeYella is one of the more chiller vibes on the album. This is the track you put on when everyone smokin vibing out after killing half a bottle of hen. I always will remember this one from the "Sky Zhone" commercial that would show up on IG.
Every classic album needs a smoking song and "Burn Slow" is just that. Imma need another Alexis Julianna & Mackey collab cause they brought big Neo Soul vibes. This that late night smoking with your girl type song, shit maybe even put a movie on.
Ever since I heard "True" I've been patiently waiting for a Kalixo Ratchet project. This is the definition of that 727 street shit. Would love to see Playrunna AV and Kalixo jump on a track together, that shit would be classic.
It wouldn't be a Zhudaru project without an appearance from Acoupstix. "Arrogance" is one of the most triumphant tracks I've heard in a minute. I just picture Acoupstix chillin in the jungle riding on an elephant, maybe even smoking one with him.
HeyeYella is hands down one of the top lyricist in the entire scene, "Real Spill" is a perfect example of that. It's brazy how much yella switches up his flow on this track, even referencing it in the track.
"Go Off" is the big anthem/posse cut on the project with Mackey delivering one of my favorite hooks on the project. I can spit the ABR verse word for word and can't wait to see him and the rest of the crew perform it live. HeyeYella snapped on his verse as well, building the anticipation even more for that secret EP they keep telling me is out. Shout out CLP Nation!
The closing track on the album is one of the best songs ever created in the scene and is by far my favorite track on the album. From the out of this world hook by Mackey to his even brazier verse what is their not to love. Kalixo also does his thing on the track adding into that hustler vibe the beat sets up. But Foreal though that Mackey Emmanuel verse is one of the hardest verses I've ever heard in my life no bap. Also peep the video directed by Moji it's classic.
Think of this project like the 727 version of Wu's "Enter The 36 Chambers". That project introduced us all the members of the crew and had us waiting to see what each member would do on their own project. After "Sky Zhone" I couldn't wait to hear Acoupstix "Couped Up" and Alec Burnright's "Mofongo+". With other projects from HeyeYella & Playrunna AV rumored to drop soon I can't wait to see what comes out the Zhu next. Also shout out to Quanzaah, Rishi Beats, Smokey, & Johnny Adama.