Key Kartel's own Dinero Tarantino returns for the third installment of his "Keys To The Streets" series, and this time he's going way harder grabbing some of the biggest features the city and beyond has to offer.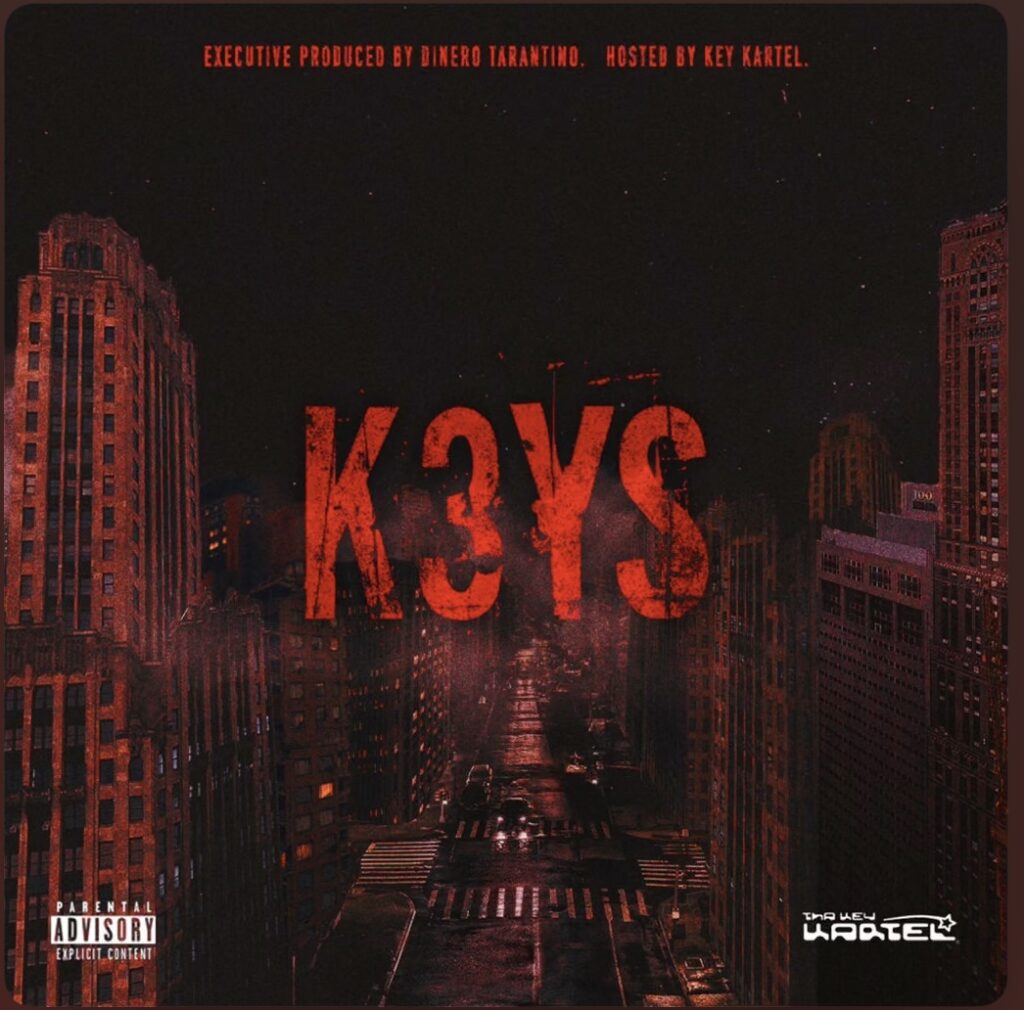 The real heavy church like keys hit you on the intro, with a majority of the Key Kartel family spitting "Keys To The Streets".
Kaedo comes through on the same production. In my opinion no one is really on the same level as Dinero when it comes to those orchestral sounding keys. I love some good Harding hitting production but the background synths and keys are what bring it together.
Now let's get to one of my favorite joints. Tampa Bay Hip Hop pioneer Famous Kid Brick pulls up with 813s own Yung Dread. Brick has always been one of my favorites since I've been a Jit so any time we get a new Brick verse it's a gem. Yung Dread does his thing as well putting that gutter stamp on the tracks. The bells added a lot to the background beat.
"Innit Pt.1" featuring Ali is a certified banger. I am not really familiar with Ali. I like how there is a good mash up of rage shit and street shit on the album.
No stranger to each other Lil Fancy kills it on "Cinco De Mayo". I really fuck with Fancy's more melodic tracks giving off vibes from "Twins" and "Fan Favorite". This time Dinero came through with a more playful beat but that's where Fancy thrives.
Ali returns on "On Go". I like Ali's flow a bit more on this track. My favorite part about Dinero's beats have got to be all the sounds he comes up with to add to the drums, mostly with the synths. Another dope bangers.
Let's go Haze Ala was made to spit over the grimiest production possible. Haze stands out above the rest because you feel like he really doing what he spits. Who else really doing that street storytelling like Haze. Really dope menacing beat from Dinero. Again that bell makes it all shake.
Indie Indigo comes through on his rockstar shit for "Drip Like That". Indie is always top tier with his vocals and this track is no exception. That warped sound that comes in the beat towards the mid point of Indie's verse is really dope. One of my favorite tracks on the project.
Ali come through once again on "Smoke One Wit' Me". The more melodic vocals on this joint really did it for me. This one of those tracks you just ride around late night to making plays. We definitely need a video for this one.
"Ballin" with YO! Dave will get you hype for sure. This one is a dope mash up of street lyrics but also getting you hype for the event or party.
This my favorite track on the whole album Dawg. Everyone knows Drogotdoe is my favorite artist in the 813 if not the whole games From the ear worm hook, to the impeccable flow this dude Dro got it in all aspects of game. The bars are there to, I always leave with qutoables after a Dro track. This was the perfect choice to be the first video off the project. The way they ended the joint with the slowed down production was so fire. We need that DrogotDinero Ep soon!
Yessir with "Blaque" on the way you already know Richie Guapo had to pull up and spazz on "No Auto-Tune". I like how this track sounds tailored to Guapo. Could this be a tease as what's to come on "Blaque". One of my favorites on the project.
"Down Below" featuring Tido2X is some off the porch shit. The drums are knocking and the keys are hitting. I like how fast this track feels it's like some in and out type shit but in a good way. Almost like some mini movie vibes.
The project closes out once again with Ali on "Innit Pt.2". Bro definitely caught my attention with four placements on this projects. This one I straight rage shit. I fuck with the vocals from Ali he should stick with the drowned out Auto-Tune. The beat sounds like what imagine being in the inside of a hurricane does. That "Take 100 beans I think I'm about to take another one" was a standout. Bro spazzed out at the end of the track. Great way to end out the project.
This is by far my favorite installment of the "Keys To The Streets" series. You can see the growth and evolution in Dinero's backing production. The keys have also gone up another level with a lot of dope sounds that are not being used by other producers. Producer projects like this are so important in my opinion and I wish more producers took advantage of this tool. Big shout out to the entire Key Kartel family.